News
Ale Kino! Industry Pro programme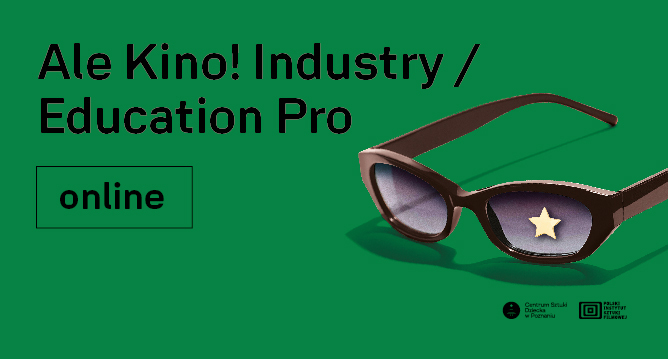 INDUSTRY PROGRAMME
Thursday, 2 December
14:00–17:15 Cinemini at Ale Kino! Day 1: Introducing Cinemini Europe 2 / online/ ENG
14:00–14:05 – Welcome from Ale Kino (Jerzy Moszkowicz/ Ale Kino!)
14:05–14:20 – Welcome from Working Group and presentation of Cinemini and its pedagogical ideas (Sebastian Rosenow & Florine Wiebenga)
14:20–14:50 – Spotlight on Cinemini on Tour and the opportunities for festivals (either Valerie Dirk or Sebastian Rosenow)
14:50–15:10 – Hands on presentation offers created in the framework of Cinemini 2, such as the MiniCine Filmbox (Tessa van Grafhorst)
15:10–15:30 – Ale Kino! – Vision of working with Young audience (Jerzy Moszkowicz / Ale Kino!)
15:30–16:00 – Coffee break
16:00–17:15 – Breakout Rooms: 5 short spotlights of 15 minutes each, with the following topics:
How to find & bind your audience (Sebastian Rosenow)

Engaging with young children (Stefan Huber)

MiniCine (Tessa van Grafhorst)

Educational Materials (Pia Bechtle)

Curating/Programming for a young audience (Ricardo Lisboa)
Friday, December 3
10:00–10:30 Cinemini at Ale Kino! Day 2: Expanding the Horizon: Open Feedback Session Day One / Christine Kopf/ online/ ENG
10:30–11:30 Cinemini at Ale Kino! Day 2: Expanding the Horizon: WHY? An overview of rationale for cultural education in early childhood/ Prof. Dr. Fabian Hofmann/ online/ ENG
How is early childhood cultural education defined in contrast to cultural education in other age groups, and how is it justified in reference to other areas of early childhood education? Focussing on this question, one finds different reasons, justifications and rationale from different discourses. Four dimensions can be identified: the "key competence" dimension, the "anthropological" or "educational processes" dimension, the social dimension and the art-specific dimension.
In this lecture, I will explain these dimensions and I will show that (at least in Germany) there is not one rationale; cultural education in early childhood is merely defined through specific combinations of different justifications and discourses. We can consider that as a problem – or as a potential way to connect cultural education in early childhood to multiple links.
11:30–12:00 Break
12:00–13:00 Cinemini at Ale Kino! Day 2: Expanding the Horizon: Being a two-year-old viewer. Very young children as audience. A suggestion for an European projectuality/ Roberto Frabetti/ online/ ENG
Children live in the peripheries of culture, and the youngest ones tend to remain stuck in the outmost periphery, because – according to popular sense – they don't understand, they are "unable", untamable or not ready to be tamed yet. And yet, artists who work with children soon realize that they are a potentially extraordinary audience, and that focusing their artistic research work on them is definitely worth the effort. Small children watch and listen to learn, to discover the world and perceive its innumerable details.
This is the background of "Mapping, a map on the aesthetics of performing arts for early years". Mapping is a large-scale cooperation project supported by Community Programme Creative Europe for the period December 2018–November 2023. It involves 18 partners across 17 countries.
17:00–18:00 New Polish Films on the Horizon – presentation of projects in development and discussion with the participation of educators / moderated by: Anna Wróblewska / online/ PL 
As part of the session "New Polish Films on the Horizon", our guests – filmmakers and artists – will present the concepts of the films they are currently working on, specifying how those works are going to address young viewers.
The projects:
1. The Day I've Met My Super Hero
Feature film for children aged 9–12
Eleven-year-old Iga wants to take part in a casting call for her favourite TV show, League of Superheroes. She believes that it will help her impress her peers and make friends. When it turns out that her dad can't drive Iga to Warsaw because of his health, she decides to go anyway. Accompanied by a 13-year-old epileptic Olek, whom she met at the hospital, and her beloved dog Dreamer, she sets off on a trip. Discovering what really matters to her, Iga will learn about her own superpower.
The Day I've Met My Super Hero is a feature family film for children aged 9–12. It's about finding one's own identity, growing up and the power that comes from sincere relationships. The film is in the funding phase. In 2021, based on the script, a novel for children 9+ under the same title was published by Wydawnictwo Literatura.
2. Fast Forward to the Future
Comedy, adventure, sci-fi (90 min)
The 1990s. Jacek is 12 years old and owns a Walkman. After it is struck by lightning, the boy's entire life is recorded on the cassette, and the device lets Jacek travel in time. By rewinding it forwards or backwards, the boy visits himself in different periods of his life. While he cannot change anything that has already been recorded on the tape, he can learn a thing or two from his alter egos. He can find out things that will allow him to win the heart of a certain girl he has been platonically in love with since the very first grade of primary school. But is it true that his visits to the future really don't change anything? Jacek must fight for the affection of his beloved Donia. It will also be a duel with destiny and a lesson about who we really are and how we are different at every stage of our lives. Will Jacek win Donia's heart? Well, you have to forward the tape to the end and see how the story ends.
3. Midsummer Night
Zosia, a teenage evil water spirt, is infected with "goodness" and leaves the world of demons in search of her true self among humans. Full of black humour and clear faith in humanity, this is a fairy tale about growing up and finding your true identity.
18:00–19:44 "Was It Bussines As Usual? European Film Festivals for Children and Youth in The Second Pandemic Year" under the auspices of ECFA/ online/ ENG
We would like to continue the discussion we started last year with the session called "Yes, we made it! The Autumn of European Festivals for Children & Youth in Pandemic". This year's meeting should create the occasion to share experiences and thoughts on what happened in the second year of the pandemic and what is the future of the festivals.
Introduction: Other perspectives – festivals, distributors, and filmmakers in the second year of pandemic/ Aneta Ozorek from Kaboom Animation Festival (Holland)
The representatives of the festivals, who confirmed to present their reports are:
Wilke Bitter – Lucas from International Festival for Young Film Lovers (Germany)
Jo-Anne Blouin – Montreal International Children's Film Festival (Canada)
Julia Jarl – BUFF Filmfestival (Sweden)
Marta Jodko – International Young Audience Film Festival Ale Kino! (Poland)
Michael Harbauer from Schlingel – International Film Festival for Children and Young Audience (Germany)
Mariella Harpelunde Jensen from Buster – Copenhagen International Film Festival for Children and Youth (Denmark)
Marion Røst Heimlund – Kristiansand International Children's Film Festival (Norway)
Pantelis Panteloglou – Olympia International Film Festival for Children and Young People (Greece)
Markéta Pášmová – Zlín Film Festival, International Festival for Children and Youth, (Czech Republic)
Heleen Rouw from Cinekid – International Film, Television and New Media Festival for Children and Young People (Netherlands)
Judita Soukupová from JuniorFest – International Festival for Children and Youth (Czech Republic)
Hilde Steenssens from Filem'On – Brussels Children's Film Festival (Belgium)
Mike Tait – Discovery Film Festival Scotland's International Film Festival for Young Audiences (Scotland)
Kamila Tomkiel – International Film Festival Kids Kino (Poland)
Iris Verhoeven from JEF – Europees Jeugdfilmfestival Vlaanderen (Belgium)
Giancarlo Zappoli – Castellinaria Festival del cinema giovane (Switzerland)
There will also be enough room for other speeches "from the floor" from other festivals representatives. The meeting goes under the auspices of ECFA, and ECFA President, Margret Albers is the one to make a resume speech.
19:44–20:00 Second Shortest Festival Party Online in Ale Kino!'s History/ online/ ENG
"Second Shortest Festival Party Online in Ale Kino!'s History" will start just after the meeting and it will last only the sixteen coolest minutes!
PARTNER: CINEMINI EUROPE
Children see movies on a daily basis. How can we make film watching a meaningful experience? How and what can we teach children in a very early age about film and media, since the early years are the most formative? We try to answer these questions on a practical way in Cinemini Europe, a film education project with films, activities and teaching materials for children between 3-6 years old.
With Cinemini Europe we want to give children and care takers the opportunity to discover the diverse world of moving image in a meaningful and fun way. We believe it is not primarily about understanding film, but rather experiencing it. By watching, playing and reflecting on moving image, we want to stimulate the development of creativity and critical thinking and spark a love for film.