Review
In a Young Critic's Opinion #4: 'Jackie i Oopjen'
We dedicate the In a Young Critic's Opinion series to the group of young people who have been associated with Ale Kino! for years. They met us when they were just preschoolers coming to our screenings of the best cartoons; they've stayed with us, even now when they are already diligent high schoolers or adult university students. We are happy to hand them over our website and read their opinions on the films shown during the 38. edition of the Ale Kino! Festival.
The mother of 12-year-old Jackie works at a museum in Amsterdam, which has just bought two exceptional paintings by Rembrandt. The girl is asked to help so she visits her mother at work. Wandering around the museum, she bumps into none other but Oopjen Coppit herself, a 17th-century lady from one of the precious portraits. The character became alive and is convinced that Jackie is her long lost sister. Jackie is very resourceful for her age and decides to help Oopjen in the search so she invites her home. That is how a great adventure begins. Together, they will face many challenges. After all, it is not that easy to cope in the contemporary world, especially when you come from the baroque period. Meanwhile at the museum, Oopjen's disappearance causes panic.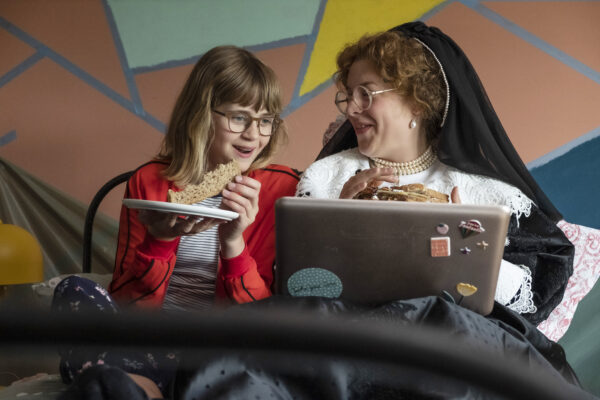 While writing this review, I am trying to decide what about this movie has charmed me the most. To me, there is definitely something endearing about Oopjen and her tendency to commit blunders (which result from the fact that she is not familiar with the times she found herself in). Even though the technology can sometimes pose difficulties, I would never think that one can try to blow out the light, eat a cotton bud with cream or use a vase instead of a toilet. What I found quite intriguing was the fact that the film is dominated by female characters. Maybe this is not extremely crucial to the plot but it shows how many important roles women have. They are not only mothers and friends but also heads of countries and art experts. Each heroine has many diverse skills and copes well with the tasks she undertakes. It is very pleasant to see such strong female characters and observe the relations between them, for instance between Jackie's mother and her daughters and between Jackie and Oopjen.
I highly recommend this film! The last festival screening will take place on 3rd December at 2 p.m.
Agnieszka Fink